Registration
---
GLENWOOD SOCCER CLUB – SPRING 2020 ONLINE REGISTRATION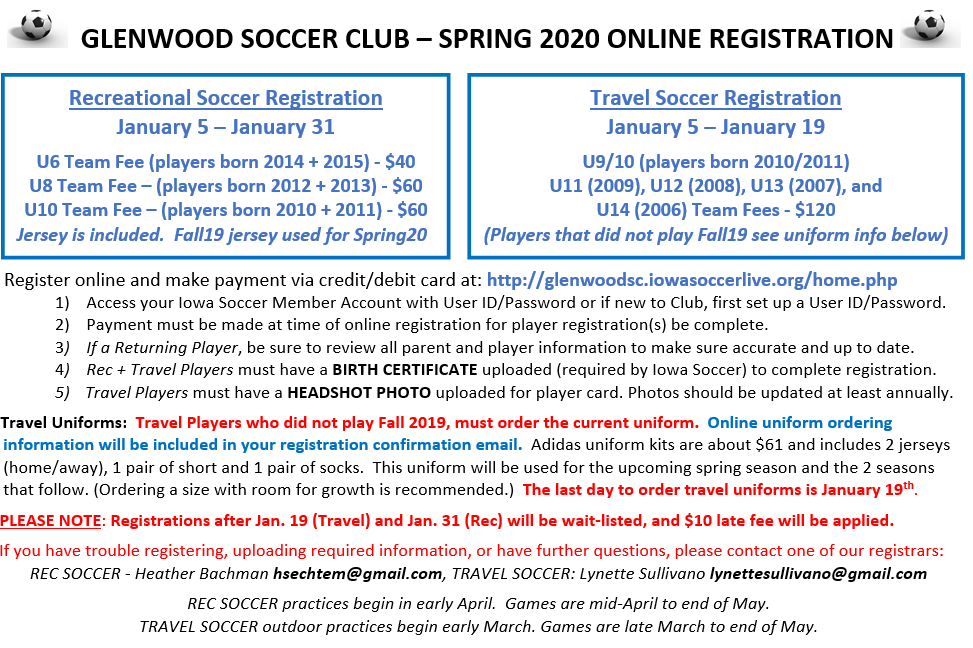 Register Player(s): glenwoodsc.iowasoccerlive.org/home.php
Payment must be made at the time of online registration for registration to be complete.
If you are new to Glenwood Soccer Club or have not registered for the club in the past 3 seasons, a User ID/Password set up is required for the registration website.
Travel and Rec Programs within the Glenwood Soccer Club/ Iowa Soccer Association requires a player BIRTH CERTIFICATE to be uploaded with registration.
Travel Team Players also require a PLAYER PHOTO ( close-up/head shot) be uploaded and updated annually.
If you have questions about registration or issues getting registered, contact:
Heather Bachman (Rec Registrar for the REC Program):
or
Lynette Sullivano (Travel Registrar for the TRAVEL program):
lynettesullivano@gmail.com
---
TRAVEL UNIFORM INFORMATION
If you are new to the GSC Travel Program or did not play Travel Soccer in Fall 2019, you will need to order a uniform for the Spring 2020 season.
Order your uniform at: https://glenwoodsoccer20.itemorder.com/
If you have question about uniform ordering or would like more information, contact:
Aaron McGoldrick (Uniform Coordinator): McGoldrick.aaron@gmail.com
---
---